1995 Blood Drive Donor Button
This is the "Donor Button" from the first Vampirella Blood Drive held at the Comic Book Extravaganza in New York City in 1995. It bears the copyright and logo of Harris Publications.
This badge was part of a package of exclusive premiums available only to blood donors! You had to donate blood in order to get one and only 150 were made.
It measures 2 1/4" with a great illustration of Vampirella by artist, Gonzalo Mayo.
Cloisonné Badge
This is a lovely little Vampirella Logo cloisonne badge, with red enamel on a "brass" coloured metal backing.
The back is marked COPYRIGHT © 1996 HARRIS PUBLICATIONS INC., and I believe it was issued as part of the membership pack for the Scarlet Legion.
The scan above is full size - 1.25 inches/35 mm. wide.

U. K. Small Pinback Badge - 2005
Featuring the art of Frank Frazetta from Vampirella #1 in 1969, this tiny pin back badge was created by an enterprising eBayer. (full size scan to the right - badge size 1 inch / 25 mm.)
"theno1badgemaster" also supplies 2.25 inch / 55 mm badges, key rings, bottle openers (below), fridge magnets and make up mirrors with the same Vampirella image on the front - see example bottle opener/key ring combo below.
These items are also available with as a whole range of other rock, pop, goth etc. pictures on them.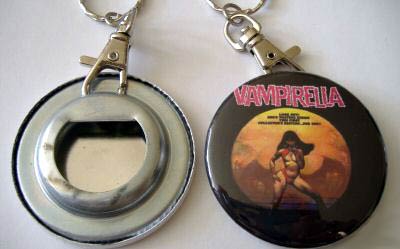 Scarlet Legion Membership Badge - 1
This pin back badge was issued by Harris Publications as part of the Scarlet Legion Fan Club membership pack. If you weren't a member of the Scarlet Legion you could not get one.
The picture is from a (Harris) Vengeance of Vampirella issue.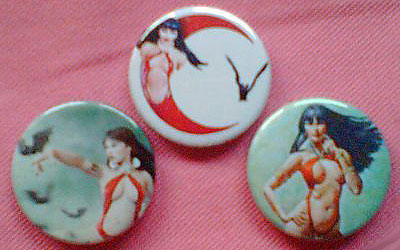 eBay Badge
This eBay seller has made a nice cluster of Vampirella images using some lesser seen, but nevertheless attractive, images.
Again, I am pretty sure they are not official licensed products.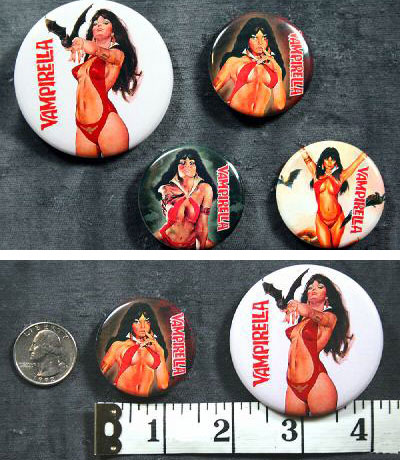 More Ebay Badges
Another enterprising eBay seller has a range of badges featuring our Vampirella.
Very kindly, his scan includes a tape measure to show their size.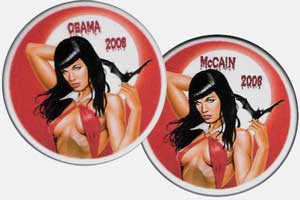 2008 USA Election
You have to love eBay for finding the weird and wonderful, not to mention being able to cash in on current affairs.
Leading up to the historic 2008 USA Election in which Barack Obama became the first black President of the USA, two Vampirella badges were available via eBay - identical apart from the names on them.
Hedging his bets the seller had both Obama and McCain badges.
I wonder which one sold most? They didn't seem to be available for the 2012 USA elections.