Pewter Necklace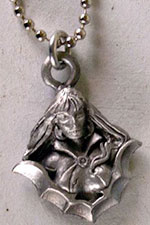 I found this on eBay...
You are looking at a pewter finished Vampirella necklace. This 1½" tall Vampy comes on an 18" bead chain necklace (partially shown). This piece is in new condition and has never been worn.
An interesting item that crops up now and again on eBay. The detail is quite good, right down to the bat mark on her right breast.
This is definitely a Warren era Vampirella.