Tattoos
This has got to be the true sign of the ultimate Vampirella fan - a permanent record of your devotion on your body.
Originally, this page was a small subsection in the "various" section of Vampirella Ephemera, though it has now grown enough to warrant it's own page. And the way things are looking, I feel that I will have plenty more to add to the site as time passes.
I do have a nice blank spot on my upper left arm which would be ideal for a Vampirella tattoo.
Maybe next week.
If anyone can give me some more information on the owners/artists of theses tattoos please do get in touch.
Vengeance tattoo
From the outfit this has to be based on the Vengeance of Vampirella series.
Again, I have no information about the owner or creator of this tattoo.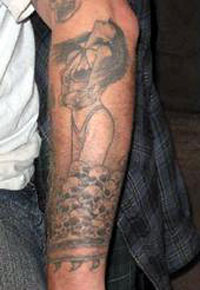 Vampirella and skulls
This tattoo is disturbingly familiar ...I know the image but can't quite place it to a particular issue or artist! It will come back to me one day.
However, it is nicely done, makes a change from the more traditional choices of Vampirella iconography, and I do like the skulls!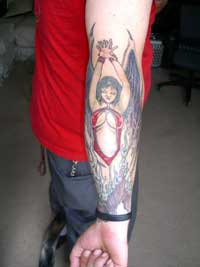 Very close...
I spotted this one on the internet and it is clearly based on Vampirella, though the tattooist seems to have missed a couple of fine points.
The gold bat logo is missing from the lower abdomen part of Vampirella's costume and her bracelets are the wrong colour.
Maybe he ran out of gold ink!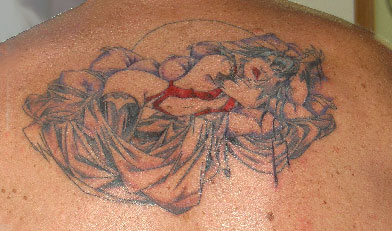 Craig's tattoo
Craig Hammond from Delaware, USA, dropped me an e-mail with a photograph of a Vampirella tattoo he had done in 2007.
Very nicely done, and another slightly different take on Vampirella.
Thanks, Craig.