Other bits that don't fit elsewhere
Lego Vampirella
We might as well start off with a bang and have one of the silliest Vampirella Ephemera of the lot, a Vampirella Lego figure.
Obviously these are standard Lego figures which have been "tampered with" but what the heck! They made me smile and they sold on eBay!
I'm not too proud to admit that I actually bid on the second of the two figures, but was sniped at the last moment! Oh well, what's for you won't go by you!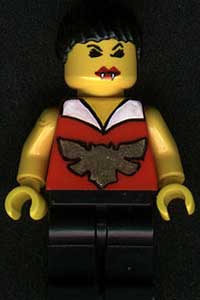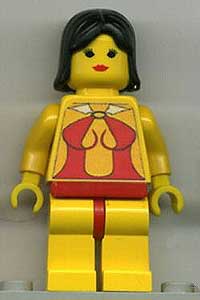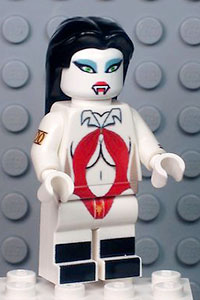 Needlepoint
Yes, if you want to have an embroidered / cross-stitch Vampirella, you can get a pattern from eBay seller "eyecandyneedleart".
I don't want to knock the person who made up this pattern, but I don't think it looks much like Vampirella. But if you'd like to send me a scan of the finished product to convince me otherwise.
The eBay details are as follows "This brand new hand painted needlepoint canvas features Vampirella, Dracula's female vampire counterpart. She has long black hair with white streaks in the middle, dark eyes with purple eye shadow and blood red lips. This is a small canvas designed to be an ornament or a scissor fob, but it could also make up into a nice boxed stand up or even a small candy bag. The canvas is 18 count Zweigart mono and the design measures 2.5" x 2.5"."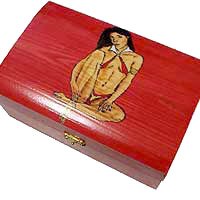 Wooden box
Yet another odd item on eBay. A wooden box with a felt lining. The auction details gave on indication of size, but if you click on the picture on the right you will get a better view of the box both open and closed.
WOOD BOX WITH ORIGINAL ART COVER. Stain, Pen & Ink. Comes with felt lining (lower section). Artist: J.Wryghtlan.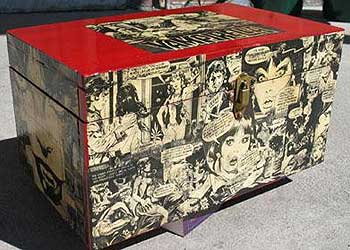 Trinket box
I have a couple of problems with this item ... I think it looks quite good, but it makes me cringe to think that a copy (or two) of Warren Vampirella magazines were cut up to make it!
Though it is an interesting concept, the demise of a Vampirella magazine is causing me some cognitive dissonance.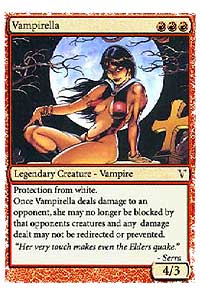 Magic: the Gathering card
I never got into Magic: the Gathering, though I know a few people who are very into that type of role playing genre. All I know is that it is a kind of duel between players involving strategy and a random element provided by the randomly dealt cards.
A couple of enterprising Magic fans have created some custom cards which may not be tournament legal, but are certainly interesting!
I have the set of five cards below and I have to admit that they have all been very well made (click the picture to see all five full size).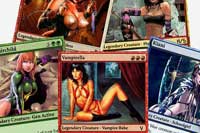 Play Station 2 skin
Got a Play Station 2? Well, you can get a Vampirella PS2 skin to make it the coolest PS2 in your street!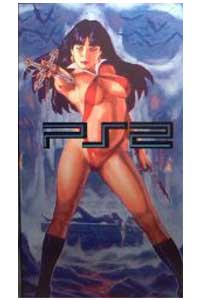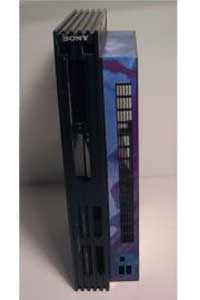 Vampirella Plastic Fangs
Somehow I doubt that Harris actually sold these rather cheap, plastic vampire fangs. You can buy these any in any corner shop at Halloween for a matter of few pennies/cents.
Despite the Certificate Of Authenticity, I do have my doubts. I have seen many a COA from Harris Comics, and this looks similar, but not similar enough to convince me to buy this as a genuine Vampirella collectible.
If you know different, please contact me.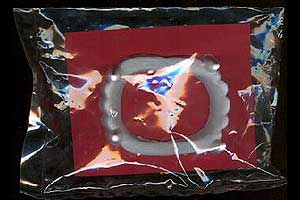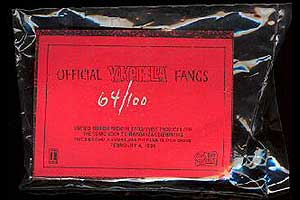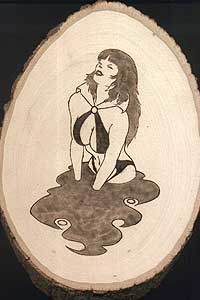 Wood burns
Basically, you take a nice piece of wood and burn an image into it using a variety of hot metal implements. In theory, quite simple. In practice, quite hard to do and produce a good picture.
I received an email about this wood burn.
I was browsing the net the other night and saw a wood burning I did years ago posted on your site. You can now confirm that the wood burn was indeed done by me. It was nice to see that there is a still a great picture of it out there.
Many Thanks for posting it on your site! Craig Noss (www.fireflutes.com)
If you do any more wood burns, Craig, let me know and I'll post them here - you never know, someone might want a commission done!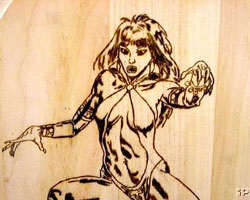 More wood burns
I don't know who made these wood burns, but they look rather good.
The detail is excellent, and would look great as a wall plaque.
Late in 2012 I was in my local market and came across a stall that did wood burns on a variety of items. A jewellery box with my choice of Vampirella design was only £20 (about $30) but I haven't seen her at the market since (though I must admit that I am not a regular visitor). One day…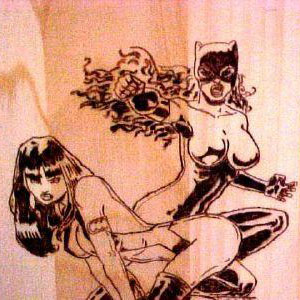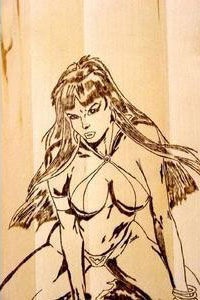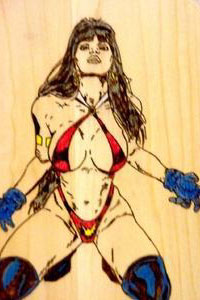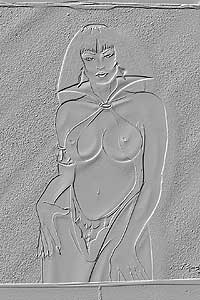 Pressed paper art
Coming from the various media of Tony Spangler this may be unique in Vampirella ephemera.
There is a special name for this type of art, where course paper is pressed so a picture "emerges" from the blank paper - and, No, I don't know what the form of art is called!
Whatever, this is a stunning and unusual piece of ephemera/ art.
Pool/ Billiards/ Snooker balls
D.L. Billiards have a novel take on bar sports, and a wide range of engraved equipment.
Included in their repertoire is a pair of cue balls enhanced with an image of a "sexy vampire pin-up girl". These are reputedly OK for Pool, Snooker and/ or Billiards, though I don't think that Snooker and Pool cue balls are the same size.
The first image is obviously the work of Claudio Aboy and though the other image seems familiar I can't quite place the artist.
A novel idea, and one that could take the whole merchandising concept into a whole new area.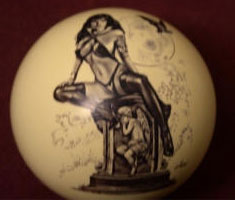 Fridge Magnets
Several people on eBay have sold Vampirella fridge magnets. The magnets come in a variety of sizes, mostly rectangular and of varying print qualities.
On the whole, though, they are a bit of fun to slap on your fridge (or in my case, filing cabinet) and relatively inexpensive. My favourite is the Mike Mayhew Vampirella lying on her logo (the very bottom magnet below). It is not rectangular and it is probably the best quality magnet of them all.