Various items of Vampirella clothing
Exotic Seamstress Thong
Exotic Seamstress also provides a Vampirella thong. I have to admit, I need to stretch my imagination a little to imagine a situation where a Vampirella thong would be appropriate... but, there you go.
I'm sure someone would find it useful. Maybe as a special treat for the Vampirella fan in your life? I have to admit that the back end doesn't look overly comfortable, but then it's not really the sort of item you wear for comfort.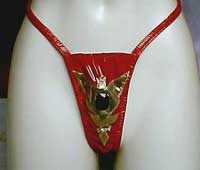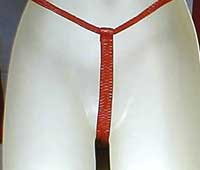 Fine Thong
I saw this on eBay; a Vampirella thong by "Fine".
The thong is made from red cotton and has black edging. The front features a Vampirella transfer and has a Vampirella swing ticket.
The eBay auction stated The thong is labeled M but is very small and will probably fit a UK size 8.
Too small for me, then.
Scarf
This is the Limited Edition "Vampirella Blood Drive Premiere" scarf, autographed by the famous Vampirella illustrator Gonzalez Mayo.
These were produced for the Comic Book Extravaganza, February 5, 1995. They are signed and numbered, and reputed to be limited to only 100, yet the one I have is numbered 154/200!
Black art and lettering on a red cloth! The scarf measures 14 inches by 14 inches.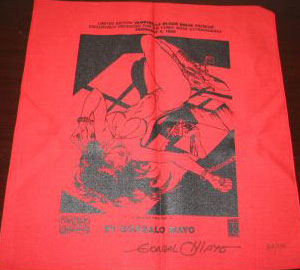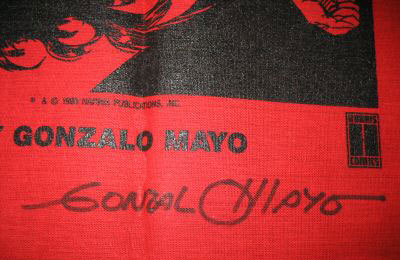 Baseball Cap
Another Blood Drive item is the Vampirella Baseball Cap/ Hat.
Embroidered on the front and the back, this is a nice cap (comfortable too!). I have no information on this other than the label on the inside which tells me it was made in the Dominican Republic.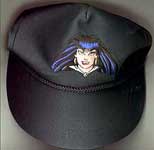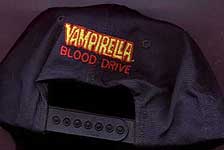 Purses
I have no information on this other than the eBay description - Each purse is embellished with matching glitter colours and accenting stones- mostly vintage. Measures: 4" x 7" and is 1 1/2" wide.
An interesting Vampirella image from an illustration by Joe Pekar. I believe that this is not a "professionally" made purse, rather someone working from home creating various "Crafts".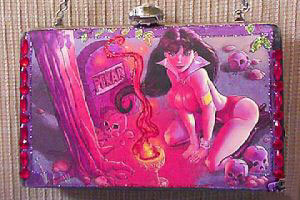 I have even less information on the purse below. Again, I think this was a homemade purse which I saw on ebay a long time ago.
Custom Tank Top
Now here is an enterprising person taking a standard item and converting it to a unique specialty item. A standard man's t-shirt converted into a ladies top. The eBay description explains exactly how.
VAMPIRELLA *DIY* TANK TOP
SIZE:Small
Bust: 34"-40"
Waist: 32"-38"
Length (top hem to bottom hem): 20"
I made this one of a kind tank top from brand new Vampirella T-shirt! It used to be a men's T-shirt, I reconstructed it for Girl's sexy top. I sew top hem with black stretch lace and bottom hem with mini black stretch lace Straps were made by black cotton eyelet tape with D-rings for charm. Length of strap was 14.5" hem(stitch) to hem(stitch) I can change the length of straps if you needed, so please let me know before shipping!
Gothic Black and Red Vampirella Dress
Seen on eBay UK in 2008.
You can be the bell of the ball with this one-of-a-kind Vamp dress. Red seams run through the dress with red lacing in the back for a corset tie. Ms. Vamp on the front of dress with more funky seams. This is a must see. Size Small to Medium depends upon how tight you tie the back. Knee length. Nocturnal Designs.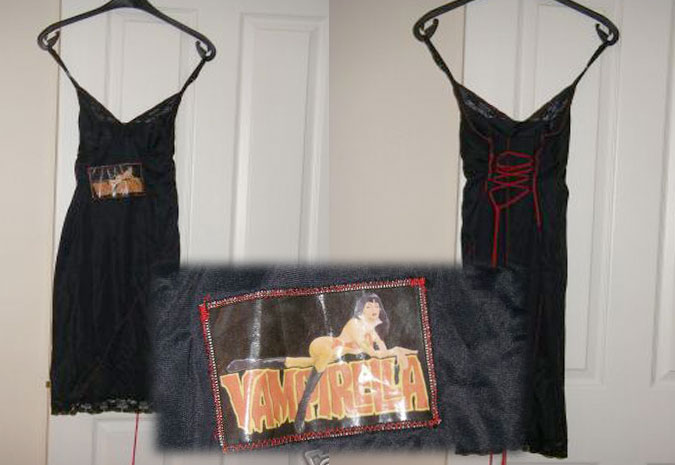 Vampirella Skirt
Seen on an auction site in 2013 this is a rather fetching A-Line skirt with drawstrings. Available in several sizes the design is the same as on recent t-shirts.
Is this a bargain at $98.00?