Vampire plate
Porcelain Images used to sell a range of plates, ceramic tiles and clocks featuring Vampirella. The plates are approximately 8.5 inches/22 cms. in diameter, made of fine porcelain with a 24K gold rim and come complete with a stand to display the plate to it's greatest advantage.
This is a lovely item. Though it is sold as being a picture of Vampirella, I have my doubts. It could be any female vampire ... You cannot see the colour of her eyes to check if they are green - though that is no guarantee of authenticity as many official artists have portrayed Vampirella with non-green eyes. The big give away, I believe, is her hair. It seems a bit too light - too dark blonde to light auburn. And as we all know Vampirella has black hair.
Thank you to Richard Lemieux who informs me that the illustration was used for the vampire novel The House of Caine by Ken Eulo. So it's not Vampirella, but it is still a nice picture though!
Porcelain Images also sold a 4" x 4"ceramic tile with an identical picture on it.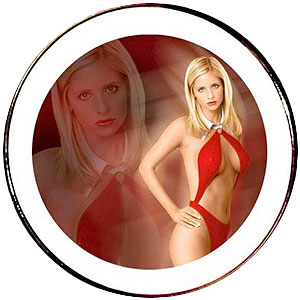 Buffy Plate
Porcelain Images included a Sarah Michelle Geller dressed as Vampirella plate in their portfolio.
If you like the image (and what's not to like?) they also make a clock with the same image (probably a ceramic tile too).
Personally, I think that the photo is a well made fake. If Sarah Michelle Geller would like to contact me to confirm or refute the authenticity of this photo I will happily rewrite the relevant sections of this site!
Or if she'd like me to take some real photographs of her in a Vampirella costume... I might even put film in the camera!
Dorian Plate
This is, without doubt, Vampirella.
Though it is not stated, the artwork is definitely by Dorian Cleavenger.
A classic image presented in a stunning medium. The best Porcelain Images Vampirella plate by far!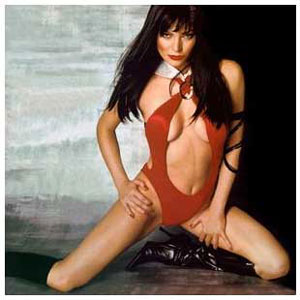 Maria Tile
Many of the images from Porcelain Images' plates are also transferred to 4" x 4" tiles.
I have seen the "Vampirella" Face and the Buffy images, but one tile featuring Vampirella which wasn't also available as a plate is the Maria Di Angelis image on the right.
Though you could argue that this is a "Vampirella-like" costume (no gold bat logo on lower abdomen), it is definitely our Maria taken from the photo shoot she did for FHM Magazine.
If this picture was on a plate I'd buy it - but then I have always had a bit of a soft spot for Maria.