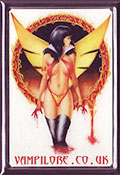 I found these on eBay, and the seller's description says it all.
This gorgeous solid stainless steel case measures 4" x 2.75" x 1/2". It has a strong latch and a spring-opening mechanism. The internal cigarette or card holder is held in place with a spring.
All work is done in our Central California studio. After the image is inserted the top is filled with a crystal-clear, waterproof, UV-resistant glossy polymer. This makes the image amazingly vivid and virtually indestructible.
The case is perfect for a driver's license, business cards, coins, bills, credit cards, cigarettes (long or regular) or nearly anything else. IT'S NOT JUST FOR SMOKERS. The polished steel inside lid makes a great mirror.
The case comes bubble-wrapped, boxed, and gift-wrapped with a blank gift card.
I bought one of these cigarette cases, and I was pleased to discover that "tofunkytown" also make them with your own custom designs (for only $5.00 more!), so I had one made with the Vampilore logo on it as well (top right)!
Recently they have expanded their range to include classic covers from the Warren era Vampirella magazines, making a total of at least nine different Vampirella cigarette cases.
They are nice items, but not that sturdy (I doubt that they would survive too much regular daily use for very long - well, not in my world anyway!).
The price was quite reasonable for a novelty item, and the finish is very good.
They also make pill boxes, flasks etc.
Cigarette Lighters
And, of course, to go with your cigarette case you must have a Vampirella lighter.
The "Must Feed" lighter is reputed to be an officially licenced Zippo product but I'm not too sure about the others.
| | | |
| --- | --- | --- |
| | | |
| Bloodbath | Dracula | Must Feed |