Exotic Seamstress Costume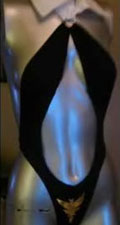 Lurking in the depths of the USA is a small outfit called Exotic Seamstress.
In their portfolio of costumes they have a rather good selection of Vampirella kit available in both PVC and Lycra (see below).
Crimson red Lycra suit attaches to white 100% cotton collar with gold O-ring. Gold bat emblem on front of suit. Collar snaps onto O-ring for ease in removing suit. (Boots not included) ... Size can be adjusted to suit.
It would seem that the costume is also available in black! I always thought that black would be a good colour for an alternative Vampirella costume, perhaps for evening wear or funerals. Certainly it was the colour of choice of Draculina in the 2008 Vampirella Monthly series.
Maybe it would be a costume that Wednesday Addams would wear when she grew into a woman.
A quick "Thank You" to Brenda for the photos.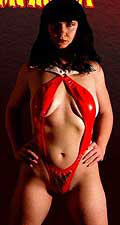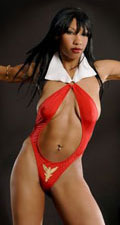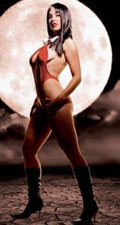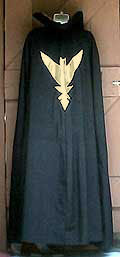 Exotic Seamstress Cape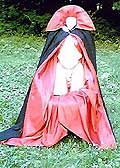 Again from Exotic Seamstress - the Vampirella cape.
It's a shame that I haven't been able to find a better photo of the front of the cape, as the back of the cape looks stunning.
If you have never worn a cape, you ought to give it a go - hundreds of superheroes can't be wrong!
I once wore one to a fancy dress party and they are surprisingly comfortable and warm!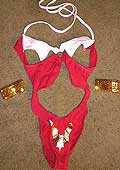 FoxVox Costume
Now this is a great costume - found on eBay from musician and model JJ Wilder. The description states...
Custom-made adult costume: Presenting the gorgeous comic book legend, VAMPIRELLA! Ladies size S will fit sizes 0-2; bra sizes A-D.; it stretches from 24-34 at the longest point. Auction includes cotton lycra (Park Lane) body suit and stretchy sequin golden arm bracelets. This is NOT an undergarment; I had this specially made so that panties or hose could be worn underneath. Please note that this is gently worn and will arrive CLEAN and ready to wear. It's been hand-washed, so I want to mention that the white string ties have taken on a 'pink' tone from the red suit and that this does not interfere with the suit's appearance. Add your own black boots and some scary fangs and you're all set!
JJ has worked in the film/tv industry and occasionally offers authentic Hollywood studio wardrobe pieces from photo, movie, event and television shoots, and from many popular network channels like W/B, F0X, and PB channel!
She also has lots of fun, sexy, goth, rocker, dancer, club wear, exotic costumes and custom-made items.
Seen on eBay ...
I saw this on eBay (October 2007) from a lady in the UK. Her write up is as follows...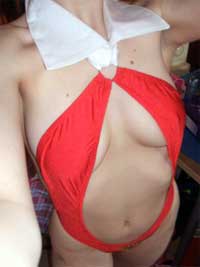 Literally just bought it custom made to wear for a halloween party but got ditched for someone prettier so really don't think I've got the confidence to wear it now. Never been worn except to take that photo and is made from lycra and cotton. Looks just like Vampirella's costume you just need to get the pointy teeth! I bought this for almost £40 and am pained to loose so much money but really want to get rid of it.
What can I say? You have a girlfriend who is willing to dress up like Vampirella and you ditch her! The guy must be mad! Especially since it is obvious from the photo that the costume fits well!
I've seen plenty of Vampirella costumes worn by people who make the costume look like a bin bag! This isn't one of those people.
I've been waiting most my life to meet a beautiful woman dressed as Vampirella... and it hasn't happened yet.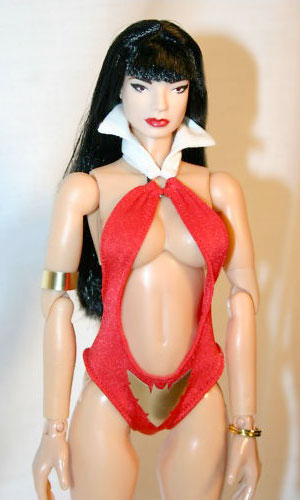 Doll's Costume
O.K., enough of the ladies cosplay. How about dressing up your favourite doll?
Yes, you can even get a Vampirella outfit in miniature. The eBay listing read-
SMcG Customs proudly presents the first in a series of Limited Edition outfit sets for your next female character - VAMPIRELLA
This custom 1/6 Scale outfit has been designed to fit almost any female body in the market today. This particular set is the LAST of a the Limited Edition release that sold out quickly at my website. If you missed out on the last Limited Edition Full set, here is a chance to get one of the outfit only sets I had.
LIMITED EDITION OUTFIT SET INCLUDES
Red outfit is made of High Quality Spandex which is accented with her gold vinyl "bat" logo
White Cotton Vamp collar is finished at the neck with white satin trim
Metal hoop joins the collar to the body of the outfit.  This is a solid buckle and not a split Jump ring that can separate easily
Brass metal armband and a pair of hoop bracelets
High gloss Black 4-way stretch PVC vinyl boots with stiletto heel bootfeet
This outfit and boots are designed to fit TTL, PHICEN, Triad Alpha, Eva and Otaku bodies. (SHOWN ON TRIAD ALPHA BODY-NOT INCLUDED)
Vampirella Headsclupt NOT INCLUDED IN THIS SET
This is such a good idea, and I am pleased to note that the first costume SMcG decided to make was Vampirella. SMcG has obviously got very good taste.