Music ♪
Inspired by Vampirella in some way various musicians have used her image on their records while others have written songs about her.
Vampirella Music
There is a German company called Vampirella Music who specialise in Rock'n'Roll, Swing, Rockabilly, Psychobilly, Blues and Jazz music. They have nothing to do with Vampirella the comic book heroine, they just have the same word as the name of their company.
Fortunately I worked this out before buying any of their albums (mostly compilations). I am not averse to Rockabilly etc, but it isn't really my thing. I'm more of a Kraftwerk/ Daft Punk aficionado.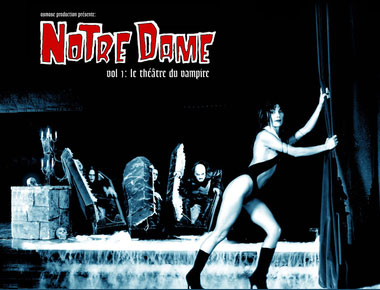 Notre Dame
Founded in the late '90s by veteran heavy metal drummer turned singer Snowy Shaw (ex-King Diamond, Mercyful Fate, Memento Mori, etc.), "erotic- black- horror- gothic- metal" ensemble Notre Dame have made quite a name for themselves with their energetic brand of heavy metal. Notre Dame's lead singer is called Vampirella, and the image of Vampirella appears on some of their promotional material, specifically for their 2001 Le Théâtre du Vampires CD.
I have a copy of the CD and it is not bad - if you are into that sort of music.
You can listen to the title track on
YouTube
. The CD is available from iTunes.
I have managed to get hold of a 2002 promo CD for the Coming Soon to a Theatre Near You, The 2nd album which features Vampirella on the cover.

Misfits
A 1977 punk band with a rather raucous sound, the Misfits are still active after 30+ years. Heavily influenced by early Warren magazines even their logo is in a similar typeface to the Vampirella logo and their brand of punk is called Horror Punk.
Their songs and their stage act focusses on 50's/60's monsters and demons. They do a great version of Monster Mash. Worth a listen and available via iTunes.
Below is a limited edition orange vinyl version of one of their LPs and Vampirella is used on the printed insert.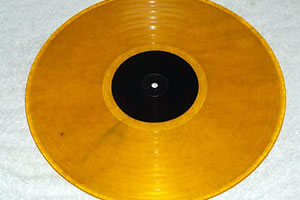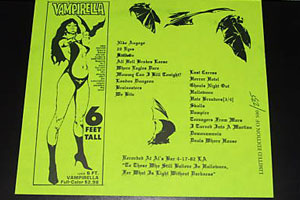 I also have their 2001 Cuts From The Crypt LP which features Vampirella on the album itself.
The items below include a music player.

Click on the round arrow button to hear the music.
If the music is too loud there is a volume control on the right hand side of the player - click and slide to suit.
If you start another music player the one that is currently playing will pause (so you don't have more than music track playing at the same time).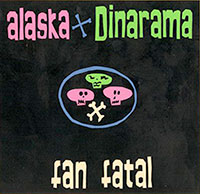 Alaska y Dinarama
Alaska y Dinarama was a Spanish electro-pop band formed in 1982 and reformed as Fangoria in 1989.
Track 2 of the Fan Fatal CD (1989) is called Vampirela (with only one "L"). This may be the Spanish spelling of Vampirella(?) as the group is Spanish and the song is sung in Spanish.
I have translated (badly) the lyrics into English and of all the music tracks I have found which are called "Vampirella" this is the only one that is 100% definitely about the (Warren) Vampirella that this web site is dedicated to. It's also quite boppy and fun to listen to even if you don't speak the lingo!
Spanish


La he conocido en un cine de media noche
Estaba viendo la nueva de Christopher Lee
Fuimos a ver viernes 13 tercera parte
Y coincidimos las dos en que es la mejor

En cuanto pudo me lo confeso
Que ella es vampira y que quiere que yo
Mi joven sangre ponga a su disposición

Y como es lógico y muy natural
A mi eso no me parece tan mal
Y yo por ella doy eso y muchísimo mas

Vampirela, no eres buena
Toma mi sangre, es para ti
Vampirela, vida eterna
En el infierno se habla de ti

Ya me ha mordido en el cuello y es agradable
Parecerá raro al principio pero nada mas
Yo me esperaba algo mucho mas doloroso
Pero me gusta y quisiera volverlo a probar

Ahora ya nunca tomare el sol
Y los espejos los he roto hoy
Los crucifijos me hacen sentirme muy mal

Y como es lógico y muy natural
A mi eso no me parece tan mal
Y yo por ella doy eso y muchísimo mas

Vampirela, no eres buena
Toma mi sangre, es para ti
Vampirela, vida eterna
En el infierno se habla de ti
English


I met her in a midnight movie theatre
She was watching the new Christopher Lee movie
We went to watch Friday the 13th Part Three
And we agreed this is the best one of the franchise

Then she confessed
That she is a vampire and she wants me
To give her my blood

It is logical and natural
It seems fine to me
I'm able to do so and even more

Vampirella, you're good
Drink my blood, it's for you
Vampirella, eternal life
In hell they speak about you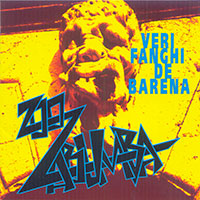 Zoo Zabumba
Veri Fanghi De Barena
I don't know much about Zoo Zabumba other than they are Italian and have R&B/ Soul influences. I'm not even sure what the song is about as I don't speak italian but it is an interesting track.
They have a
MySpace page here
.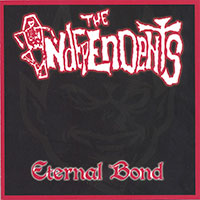 The Independents
Eternal Bond
A punk influenced band from South Carolina, USA, The Independents have performed almost non-stop, touring with bands such as The Ramones, Misfits, Voodoo Glow Skulls and Cheap Trick to name but a few.
"
Hearsay has it that the only thing scarier to sprout from the muck and mire of South Carolina's swampland than guitarist Willy B is his partner-in-grime Evil Presly. Whereas Mr. B has that gentlemanly Southern smarm and a drawl that simply drips with "git th' shovel", Mr. Presly - a leather 'n leopard wrapped mass of mange, canines and charisma that's charmed the pants off more than one chimpanzee - is a brash, one-man avalanche. Put simply, put the two together on a stage, in a van or bar tab and somebody's gonna end up hurt and bawlin'.
"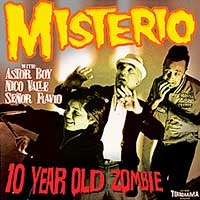 Misterio
10Year Old Zombie
Misterio started in 2006 as a family project between Flavio Cianciarulo (founding member, bassist and songwriter for the legendary latin fusion band Los Fabulosos Cadillacs) on guitar and vocals, and his eight year old son Astor on drums.
They recorded and released "Beat Zombie" in 2006 and were later joined by Nico Valle (ex-Motorama) on standup bass. In 2010 they released the album "10 Year Old Zombie".
Very 1950s IMHO.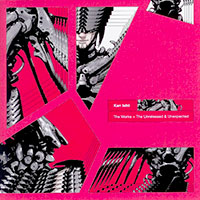 Subvoice Electronic Music/Ken Ishii
The Works + The Unreleased & Unexpected.
The Japanese artist Ken Ishii debuted in 1993 and won No.1 on the UK's NME magazine's techno chart which led to worldwide recognition. In 1996 the video clip for the single "Extra" from the "Jelly Tones" album (directed by Koji Morimoto, the animator of the worldwide hit cartoon, "Akira") won MTV Europe's "Dance Video of the Year" award.
In 1998, Ken composed and produced the official theme song for the winter Olympics which took place in Nagano, Japan and it was played in more than 70 countries around the world.
More than just a techno DJ,
Ken Ishii
is regarded as one of the Japanese pioneers whose creation is on a world standard.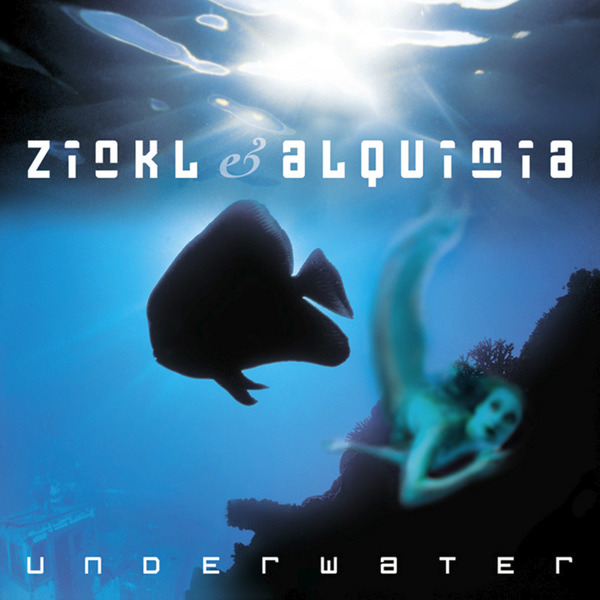 Zinkl & Alquimia
Underwater
Underwater is a collaboration between two seemingly disparate artists -
Anton Zinkl
and
Alquimia
.
Anton Zinkl is a german electronic music composer who focusses on a mix of instrumental electronic pop/progressive music.
Alquimia is a singer, composer, multi instrumentalist and sonic innovator who has brought a rare ambient influence to celtic, mediaeval, electronic and neo-classical vocal music. Based in London, and singing in various languages including Spanish, English, Nahuatl, Mayan, Gaelic, Latin, and Catalan she also uses her voice to create multilayered choirs and electronic vocal soundscapes - described as "an ethereal chorale of great beauty".
An interesting ethereal track which doesn't quite seem to fit in with the Vampirella universe, but it is well worth a listen.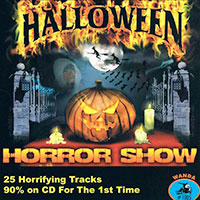 Kenny Vance
Halloween Horror Show
Kenny Vance (born December 9, 1943, in Brooklyn as Kenneth Rosenberg) is an American singer, songwriter, and music producer who was an original member of Jay and the Americans. His career spans from the 1950s to today, with projects ranging from doo-wop groups, music supervising and creating solo albums.
The Halloween Horror Show is an album designed to be played at Halloween parties and only seems to be for sale from August to October… It has some pretty "hokey" tracks but is fun.
The Vampirella track sounds like it was made in five minutes flat and everyone had a great time doing it! If you like 1950s style music this is for you.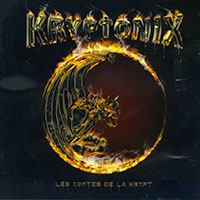 Kryptonix
Les Comtes de la Krypt
Kryptonix is a Blues/Rock band from France founded in 1992. The Les Comtes de la Krypt album was released in 2001.
A lively rock track which will get your toes tapping.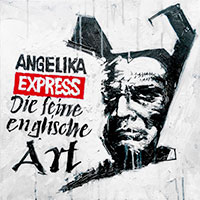 Angelika Express
Die Feine Englische Art
Angelika Express is a German pop and punk band. The band was formed in 2002 by Robert Drakogiannakis. It broke up in 2005, but reunited in 2008.
This track is more boppy and pop than punk and if I spoke German would be a definite sing-along.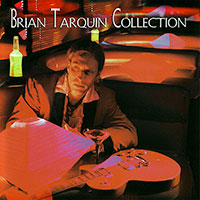 Brian Tarquin
Brian Tarquin Collection
Brian Tarquin is an American multi-Emmy Award winning guitarist/composer and the producer of the Guitar Masters Series featuring Jeff Beck, Steve Vai, Jimmy Page, Santana, BB King and Joe Satriani.
Also known for his work as a Smooth Jazz artist and a music composer receiving 3 Emmy Awards for Outstanding Achievement in Music Direction and Composition for a Drama Series. He produced music for many TV shows such as CSI: Crime Scene Investigation, TMZ on TV, America's Next Top Model, ABC's Making The Band, Extra, Alias and the Keanu Reeves film The Watcher.
This track is very Jazz orientated and a nice chill out.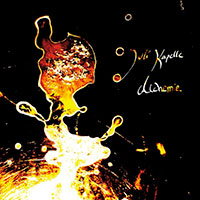 Juli Kapelle
Alchemy
Juli Kapelle is a German one man band founded in 1996. Working in a dusty recording-studio with lots of museum-synths, rusty microphones, sexy guitars, nerdy stomp-boxes and pianos that are older than your grandmothers dad.
This track is what I would consider "experimental". Not my cup of tea but I'm sure someone will appreciate the finer artistic points of it.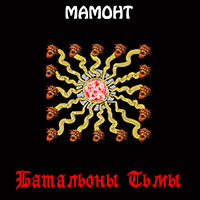 Mammoth
Darkness Battalions
The prerequisite for joining this appropriately titled 1980s UK band was, as legend has it, to weigh in excess of 20 stone. Potential members were few and far between, but made up in girth what they lacked in number. The idea behind Mammoth was to present an alternative to 'pouting' rock bands with the music, rather than the image, topping the agenda.
Unfortunately, due to contractual problems with their record company their debut album was delayed for 10 months and the interest they generated had evaporated by the time it was released. The single, 'Can't Take The Hurt Anymore', was included on the soundtrack to Nightmare On Elm Street 5, The Dream Child. The band collapsed shortly after the album's release.
I'm sure heavy metal fans will appreciate this track.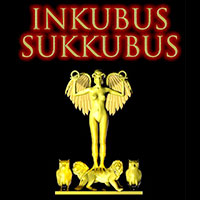 Inkubus Sukkubus
Track 5 of
The Beast With Two Backs
(2003) is called Vampyra but is often mistakenly called "Vampirella" on the internet. I came across a copy of "Vampirella" and quite liked it so sought out more
Inkubus Sukkubus
music.
I must admit I quite like their Pagan/ Wiccan/ Rock music and have quite a few tracks by them.
I bet their live performances are good fun too.