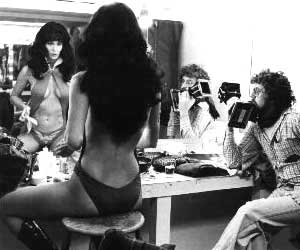 Barbara Leigh Stills
In 1975, at the Famous Monsters Convention in New York, it was announced that a feature film version of Vampirella would be made by Warren and Hammer Films - the great British film company, starring Barbara Leigh as Vampirella and Peter Cushing as Pendragon.
Barbara appeared at the show in full Vampirella costume and makeup.
Unfortunately, the film was never made, but the stills shot at that convention still exist. This is one of the original contact sheets, made by the photographer (Hank) who worked that show, indicating the various images he shot of Barbara, several of which are marked for appearance in one of the Warren magazines!
I was contacted by Barbara a while back asking if I had a copy of these stills. Sadly, I do not. Both she and I would love to have a copy…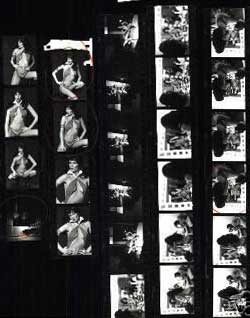 Model Slides
One that got away from me on eBay was forty original slide photographs, allegedly of Sascha Knopf as Vampirella. These were from a photo shoot and have many pictures that didn't appear in print. The slide photos measure 2 x 2 inches/5 cms x 5 cms.
I was contacted by Mark Beachum, the artist who created the cover for Vampirella of Drakulon #5. It seems that the slides were from a photo shoot he did in preparation for his work for Harris Publishing, and when you compare the cover of Vampirella of Drakulon #5 and the slides it is obvious that these are his. Mark cannot remember who the model was (definitely not Sascha Knopf) but he did say that the eBay seller did not have Mark's permission to sell the slides.
This put me in an awkward position as a couple of years after the original set were sold on eBay a second set were auctioned which I did manage to win. A smaller set of 20 slides with a different model, but with the same set/ background.
I offered to return the slides to Mark but as I had bought them in good faith he has permitted me to have ownership of them.
Thank you, Mark. You are a gentleman in every sense of the word.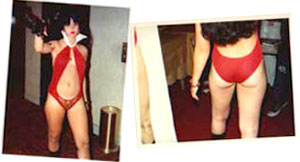 Heidi Saha Stills
These photos were originally taken in 1973 at the New York Comic Art Convention. Heidi was fourteen when these photos were taken and she was widely known at the time for her Vampirella costume appearances.
James Van Hise was the photographer, and he has sold some prints from the original negatives in his eBay store.
Whether these photos are in "good taste" or not are debatable.