See through Vampirella
An enterprising eBay seller has produced a few Vampirella based window decorations.
I have one of these and it is rather good.
I assume that these are home made and not mass produced. Despite that the seller has done a good job.
Translucent, it works quite well and worth laying out a shekel or two to brighten up your room (they aren't expensive).
The images seem to be based on "fan art" as opposed to artists who have featured in the various Vampirella publications. I recognise the first piece of art as being by Lorenzo Di Mauro but haven't placed the others yet, though they are disturbingly familiar!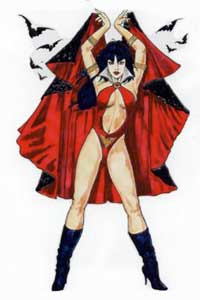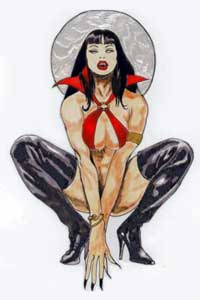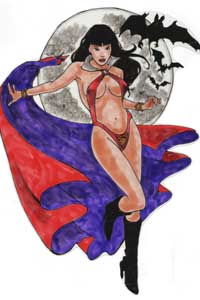 Gonzalez pose
Another eBay seller has produced a Vampirella based window decoration with a more familiar image.
Image is approx. 9-1/4" tall  X 2-1/4" wide. Window Art Cling sticks to any glass surface. Decorative adhesive-free sun catcher type sticker for windows, glass, mirrors. This particular artwork was made with HOUSEHOLD windows in mind. They will adhere to the inside of the window intended to be viewed on the inside. Sheet is Mint and unused. **SPECIAL NOTE ON THE CLINGS: These decals are intended for "HOUSEHOLD" use. The instructions I will include with your decals say in capital letters at the bottom "DO NOT RUB OR GET WET". Putting this decal inside your vehicle is a risk. The ink that has to be used for the refraction of light is soft. It is more fragile than the solid color vinyl type of auto decals made for all weather conditions. The auto decals are not "Sun catcher" type items. The Clings I sell for household use are made to act more like stained glass and light filtered through them looks like a "Slide" image. Shipped in rigid envelope.
A steal at $6.