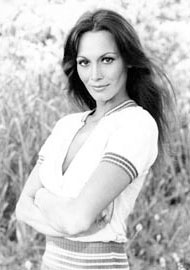 Barbara Leigh
The first model to be featured on a Vampirella cover was Barbara Leigh in the Warren Comics' run of Vampirella. Barbara graced the covers of Vampirella issues 67, 69, 71, 73, 74, 76, 77 and 78.
Barbara Leigh was a model who was spotted and featured in a number of movies alongside such celebrities as David Janssen, Steve McQueen and Rock Hudson. She even dated Elvis Presley for a while and remained a friend of his until his death.
Barbara's introduction to Vampirella came in 1975, when she was cast to play the lead role in Hammer Films' production of "Vampirella". This was particularly apt as Barbara had always been fascinated by the story of Dracula, and she is a well known amateur Egyptologist.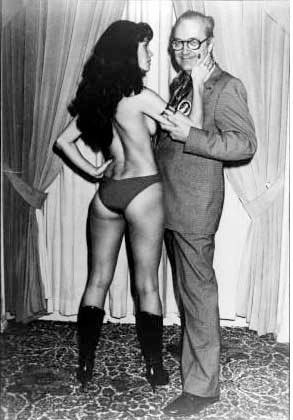 Michael Carreras of Hammer Films cast Barbara as the perfect Vampirella, and signed her to a six picture deal, however the project was never completed. It would be interesting to know if there are any scraps of film from auditions etc still in existence.
After the Vampirella project folded, Barbara married a New York lawyer and retired from the business.
In the mid 1990's Vampirella came back into Barbara's life, as she became known as the first and "Original Vampirella" to legions of Vampirella fans. In April 1995, she was invited to be a guest at the annual Chiller Theater Convention. Hundreds of fans showed up to see her as Vampirella, many of whom had seen her at "The Famous Monster Convention" of 1976 held in New York City, with Peter Cushing, Forrest J. Ackerman, James Warren and Michael Carreras.
Today Barbara appears at autograph conventions, where she displays the original Vampirella costume and jewellery, which were made for her by the famed Western Costume Company.
You can also obtain autographed photographs of her in her Vampirella outfit (seven different colour photos and one black and white photograph, plus three limited edition "trading cards") from her web site.
The "live model" cover photo became a "standard" with Harris Comics, and many other comics now have an alternative "model" cover as well as the usual painted version.