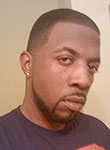 Cameron Blakey
I don't know a lot about Cameron Blakey other than some minimalist information on Facebook. However, I think his art speaks for itself.
I think it is interesting to note that his later renditions have more stylised hair, more distinctive facial features and a less minimalistic costume. An improvement IMHO.
California based, Cameron is a regular seller of comic book character art on eBay.