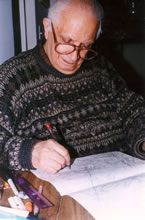 Luis Dominguez
Luis Dominguez has been drawing comics since the 1940s in his native Argentina. His work has graced the pages of books from every company, from Dell to Charlton to Gold Key, in genres ranging from horror and mystery to war and westerns. Between 1963 and 1970 Luis Dominguez was affiliated with the Union Studio in Latin America, where he did back-up features for Charlton and drew for many of the company's 1960s war and western titles, such as Cheyenne Kid, Fightin' Marines, Billy the Kid and Outlaws of the West.
From 1967 through the late 1970s, he did a lot of work for Gold Key titles like Ripley's Believe it or Not, Boris Karloff Tales of Mystery, Grimm's Ghost Stories, The Twilight Zone and UFO Flying Saucers. Then in the 1970s, he also began working for DC. Among titles he drew for DC in the 1970s were House of Mystery, House of Secrets, The Witching Hour, and Jonah Hex.
He is probably best known, however, for his work on Vampirella at Warren with his first published Vampirella piece in Warren Vampirella Issue 20. His also did the cover for Harris' Crimson Chronicles Issue 4.
I have not found (yet) many examples of Luis' unpublished Vampirella work, but I'm sure there will be more to add to this page as time passes.