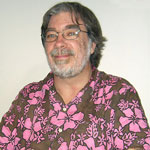 Fred Hembeck
Though not particularly known for his work with Vampirella, Fred Hembeck is a cartoonist of world renown in his own field.
Fred is best known for his parodies of characters from major American comic book publishers and his work has frequently been published by the firms whose characters he spoofs.
His trademark, and what makes his art instantly recognisable, is that his characters are always drawn with curlicues at the elbows and knees.
In 2009 Fred created a Halloween sketch of Vampirella and Dracula which I managed to get hold of.
In 2011 he created a wonderful Christmas Vampirella/Santa sketch which I also managed to buy.
So far as I know Fred has only made a few Vampirella parodies, and I have two of them.
They are not "great art" nor do they have some deep and profound meaning, but every time I look at them I smile.
Thank you, Fred.