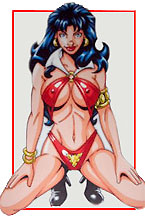 Garrett Blair
Garrett is a multi-talented artist from Nashville, TN now living in Seattle, WA. Apart from his pen and ink artwork, he is also an accomplished photographer, film maker and a gamer of some skill.
Sometimes you see a picture and just fall in love with it instantly. So it was with a depiction of Vampirella by Garrett which inspired me to have my own Garrett Blair Vampirella commission.
Garrett's art may seem a little simplistic at first glance, but sometimes less really is more! While others go into every minute detail to achieve photo realism he manages to create breath catching images with deceptively simple "brush strokes".
Apart from his Vampirella art I have included some of his Vampi artwork and a nice sketch of Pantha.
Garrett is the younger brother of Scott Blair.