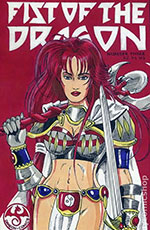 James Chen
There is a James Chen who drew the cover for Dynamite's Vampirella #3, but I don't think this is the same artist.
This James Chen has been selling a variety of comic book sketches on eBay for quite an affordable price.
I get the impression that he is not a full-time artist, though he is credited to have done the artwork for the comic books Fist of the Dragon (issues #1, #2 and #3) and Lady Dragon (#1). These were published by Dragon Comics in the mid 1990's and I can find no other credits for James Chen's work.
Whatever his situation they show a certain amount of promise for the future and I hope that he continues to grow and develop his art.