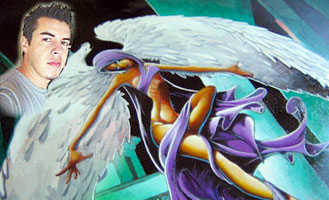 Jose Luis Arredondo
Jose Luis Arredondo is a young artist from Van Nuys, California. Self-taught, he works full-time and has been selling artwork since the age of 18.
Working mainly in acrylics he has a distinctive and appealing style. Obviously talented, I hope he is at the beginning of a long career in art, and we will get to see more Vampirella illustrations as time passes.
In December I received two pieces of Jose's work. What I got certainly wasn't what I was expecting, it was so much more!
The artwork is truly exquisite. The word "breathtaking" comes to mind. No picture on the web can do justice to the amazing detail and show the metallic inks to their best advantage. Though he doesn't present a "traditional" rendition of Vampirella.
Just because his take on Vampirella is different doesn't make it wrong. Bruce Timm's alternative concept of Vampirella has become an iconic Vampirella image, and I'm sure that he could easily take a place in the Vampirella Cover Artists' Hall of Fame.
If you see any of his work up for sale and are tempted, go for it! You won't be disappointed!