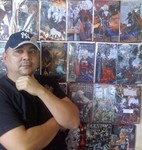 Di Amorim
Di Amorim is an Brasilian comic book artist who has worked on such titles as Lady Death and Grim Fairy Tales.
He also created and penciled the sci-fi series Aby-sex and murder and the dark fantasy mini-series Warrior Yanomami: on behalf of the water.
The Amorim family seems to be quite artistic so I have also included a couple of pieces by Amanda and Bianca Amorim.